Brazil – Butt Lift Master Series Challenge Pack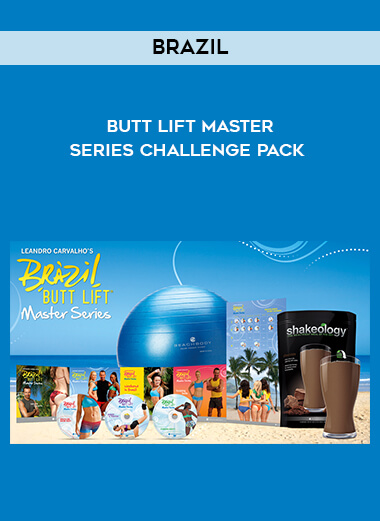 Salepage :
Brazil – Butt Lift Master Series Challenge Pack
Arichive : Brazil – Butt Lift Master Series Challenge Pack
Brazil Butt Lift Challenge Pack
In just 30 days, you can transform your booty sculpting routine to give you the firm, toned bikini body that you've been wanting. With Leandro's innovative dance moves and other resources at hand, you can count on this routine to help you achieve all of your weight loss goals.
Now, the Brazil Butt Life Challenge Pack also comes with a Cardio Carnivale BONUS DVD! This gives you even more fast-paced, cardio, fat-burning dance moves to help tone and maintain your sexy curves. This $19.95 value is yours FREE when you purchase your Challenge Pack at TeamBeachBody.com!
Your Challenge Pack Has Everything You Need to Succeed
When you choose the Brazil Butt Lift Challenge Pack over all other options, you get several tools that you need to succeed, including:
First 30-Day Shakeology® Supply –

Your healthiest meal of the day begins with Shakeology®! And, when you order through TeamBeachBody.com, you get the benefit of our Home Direct autoship program, meaning that you get all the Shakeology® shakes that you need automatically delivered to your home. *
FREE Trial Membership to the Team Beachbody® Club –

When you're looking for extra motivation and support to finish off your Challenge, you can count on the Team Beachbody® Club to meet your needs!
Standard Shipping, FREE of Charge!
Please note that the Shakeology® Chocolate and Greenberry Combo is available only in single-serving packets.
 Your Price: $160.00
Get Your Brazil Butt Life Challenge Pack Today
30 Days Separates You From Your Ideal Bikini Body
Now, you can replace months of working out in the gym with no results with just 30 days of highly advanced workouts to get you in perfect bikini body shape! With angles, tools, and resistance training, Leandro takes the Master Series to new levels, allowing you to work several muscles at once and get your body in the best shape ever.
Everything That You Want is in the Butt Lift Challenge Pack
When you're ready to ditch the workouts that don't work for those that will, the Brazil Butt Lift Pack is the right choice for you! The Pack includes everything that you need for long-term success, including:
3 Advanced Workouts:

Bikini Body –

By combining Leandro's expertise and hand weight training, you can have sexy, lean muscles from head to toe.

Higher & Tighter –

Elevate your glutes and while cutting your core with advanced stability ball training routines!

Ipanema Booty –

Heavy ankle weights are the secret to a round, firm behind! This workout can help you achieve the look you want, all with the assistance of the stability ball.
3 Essential Tools:

Stability Ball –

Your core will be engaged with every motion when you use the premium stability ball to get to your bikini body!

Sculpting Guide –

The Sculpting Guide is your secretto success, giving you simple solutions to your weight loss and toning goals.

Master Series 30-Day Calendar –

Know your workout everyday and take the guesswork out of getting the body you want. Leandro also offers a hybrid option that incorporates the original Brazil Butt Lift DVDs.
3 FREE Bonus Gifts:

Weekend in Brazil 3-Day Cleanse –

This special 3-day cleanse will get your results off on the right foot.

Online Support Available 24/7 –

Track your progress and get support, no matter when you need it!

FREE Exclusive Bonus Workout –

This $19.95 value is yours FREE when you order your Challenge Pack from TeamBeachBody.com! Cardio Carnivale is a simple way to get even better solutions from this exceptional program.
The Benefits of the Brazil Butt Lift Challenge Pack Don't Stop There
Your First 30-Days of Shakeology® –

Feel great, get energized, and lose weight with Shakeology® healthy meal shakes! With powerful antioxidants and other nutrients including phytonutrients, adaptogens, and other rare ingredients, everything you need to power your workouts is available in just one, convenient shake. Now, there is even an 100% vegan option available. ‡
Team Beachbody® Club 30-Day Trial –

The resources that you need are at TeamBeachBody.com! When you join our VIP Team Beachbody® Club, you get countless benefits, including: **†

10% Discount

Good on All Orders

Custom Created Meal Plans

to Meet Your Goals

VIP Access

to Connect With Beachbody® experts, as well as your favorite trainers with live chats, videos, nutrition tips, and delicious recipes!

Guidance and Support From Your

Personal Coach
SuperGym® Access –

Win cash or prizes just by taking the time to log on and enter your workouts!

Meet New Friends and Workout Buddies

via Chat Rooms and Message Boards
Our 30-Day Money Back Guarantee
We know that you'll love our Brazil Butt Challenge Pack, but if you don't, you can return for the full refund price within 30 days (minus shipping and handling charges)! This means that there's no risk in trying out our amazing program for yourself! There are just results to be had!
Additional Shakeology® Information
Ingredients and Nutritional Information for Shakeology Chocolate Flavor Download PDF
Ingredients and Nutritional Information for Shakeology Greenberry Flavor Download PDF
Ingredients and Nutritional Information for Shakeology Tropical Strawberry Flavor Download PDF
 Your Price: $160.00
Get Your Brazil Butt Life Challenge Pack Today
* When you choose Shakeology® Home Direct, you will receive this product every 30 days directly to your door at a cost of $119.95 per month charged directly to the credit card that you use for today's purchase (or $129.95 per month for Chocolate Vegan or Tropical Strawberry Shakeology®). This means that for only about $4.00 per day, plus a Super Discount shipping and handling fee of just $2.00 per unit, you can have the results that you've always wanted. If at any time you want to cancel your Home Direct service, you may do so by calling Customer Service.
** After your 30-day trial has expired, you will be billed $38.87 per quarter, a cost of just $2.99 per week, for your ongoing Team Beachbody® Club membership on the credit card used for today's purchase. You may call Customer Service at any time to cancel.
*** The included strength band contains rubber latex, which might cause allergic reactions.
† This offer is not available to current Team Beachbody® Club members.
‡ Statements made have not been certified by the Food and Drug Administration. These products are not created to assist in the diagnosis, treatment, curing, or prevention of any diseases.
Please consult your physician before beginning any exercise program. Results require regular exercise to maintain outcomes.