Diamond Dallas Page – YRG Yoga For Regular Guys Fitness System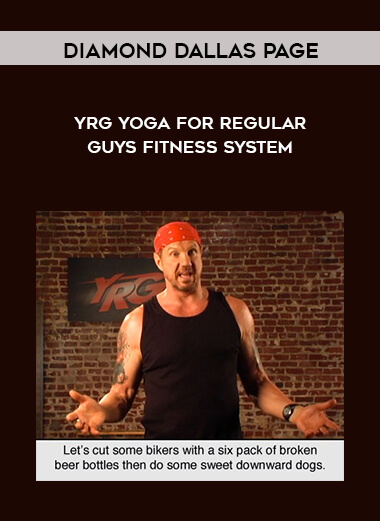 Salepage : Preview
Arichive : Preview
Listen up, guys: If you think yoga is just for earthy-crunchy New Agers, think again! Three-time World Champion Wrestler Diamond Dallas Page one of the biggest superstars in professional wrestling is here to prove that yoga is for regular guys, too.
Chock-full of smartass humor and a whole lot of attitude, Yoga for Regular Guys is an illustrated fitness program that men can relate to because Dallas understands the things men care about: improved strength and endurance, a better sex life, reduced stress levels, and (maybe most importantly) access to ridiculously hot yoga babes. Every chapter offers clear, step-by-step explanations of yoga poses and circuits along with hilarious full-color photos of "regular guys" in action.
Written in conjunction with Dr. Craig Aaron an athletic trainer for numerous members of the NFL, NBA, and World Wrestling Entertainment Yoga for Regular Guys is a comprehensive fitness program that's fun, irreverent, and empowering. So what are you waiting for?
Diamond Dallas Page practices yoga daily, and he can kick your ass. In addition to being a three-time World Champion Wrestler (and pioneer of the trademark "Diamond Cutter" move), he's also appeared on The Tonight Show , Live with Regis and Kelly , Enterta
Paperback: 192 páginas
Editor: Quirk Books; Edición: 1st Edition (27 de octubre de 2005)
Idioma: English
ISBN-10: 9781594740794
ISBN-13: 978-1594740794
ASIN: 1594740798
Dimensiones del producto: 18.4 x 1.3 x 23.5 cm
Peso del envío: 1.3 pounds